Find out more
HPI Check® your next van instantly
The expert history check designed specifically for commercial vehicles
1 in 4 vans we check has a hidden history
1 in 8 vans we check is still on finance
1 in 17 vans we check is uncovered as an insurance write-off
Created by experts for professionals
Why you can trust the HPI Check®
If you depend on your commercial vehicle for work then it needs to be 100% reliable. Taking a chance on it having a clean history could cost you dearly so it's important you have the facts.
The HPI Check provides a report you can rely on. It's the

most comprehensive

history check in the UK providing more information about your next commercial vehicle than any other history check.
HPI uses cutting edge technology to ensure you get highly

accurate and regularly updated

information.
We understand how important the vehicle is for your business so the accuracy of the data we provide is backed with a £40,000 

guarantee

- more than any other history check.

Our experience and expertise

is undeniable. We introduced the HPI Check in 1938, and have protected millions of van buyers from vehicle fraud ever since.
Our dedicated team of experts are on hand 7 days a week to answer your questions.
More than 80 important information points
How our vehicle checks work
Enter the reg number into our vehicle checker so we can identify the van
Get your instant HPI Check report and reveal the van's true history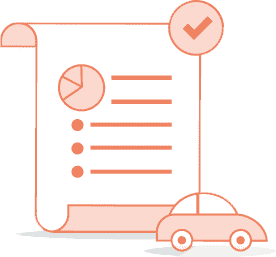 Activate our guarantee by entering the chassis number (VIN) and logbook (V5C) details
Why you need a Van History Check
A hidden past?
1 in 4 vans we check has something to hide. From an insurance write-off to a mileage discrepancy.
Rightful owner?
1 in 8 vans we check has an active finance agreement or loan against it and more than 41 per day are identified as stolen.
False identity?
1 in 5 vans has had its number plate changed. There are also 200,000 stolen log books in circulation.
Clocked?
1 in 11 vans we check has a discrepancy with its mileage meaning it may have been clocked.
Damaged goods?
1 in 17 vans we check is uncovered as an insurance write-off on a daily basis.
The HPI Check will protect you against all these risks and much more.
HPI Check

® - Trusted by millions of people
Highly impressed, very comprehensive and informative service

"Highly impressed, very comprehensive and informative service, if purchasing a valuable vehicle gives peace of mind and a guarantee."
Mr Andrew Coleman
Excellent service, would highly recommend.

"We used HPI check because we trusted their information on a used car that we wanted to purchase. In the world of used cars this proved to be invaluable advice, we would recommend anyone thinking of buying a quality used car to use this service."
Mrs Jean Sankey
Amazing

"Excellent, friendly service. Highly recommended. Gave me absolute peace of mind when buying my new car."
Matt Mason
Simple and straight forward to use online, gave me confidence to purchase the vehicle

"Informative and accurate. Good service."
Mr Phil Eames
You're in safe hands
85 Years

The HPI Check EST: 1938

More experience and expertise than any other history check company
The accuracy of our information is backed with a guarantee
"You should do an HPI check before you hand over your payment"
"Vehicle history & valuation provider of the year 2023"
"Getting an HPI check can prevent you being conned by a dodgy used van"
Buy your dream van with confidence
GET A CHECK FROM JUST £9.99